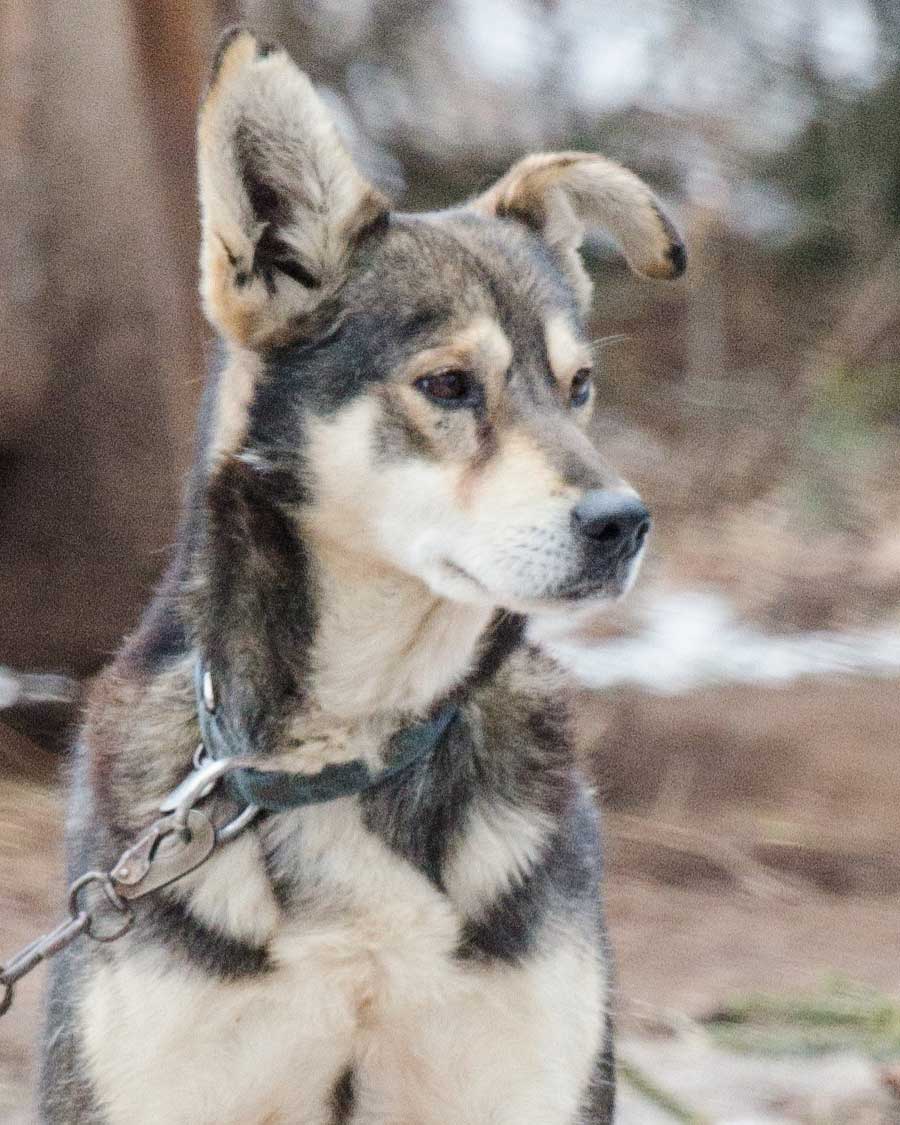 Hark
Hark is retired now and spends his days sleeping in the cabin, free-roaming the dog yard and howling with the team. Not a bad life.
Thank you TRACY M. for sponsoring Hark.
The Noble Paws Dogs
When it comes to caring for the needs of our dogs we spare no expense. This includes high quality dog food, straw for the dog houses, veterinary care, regular vaccinations and, fat and protein supplements (meat and fish) in their diet.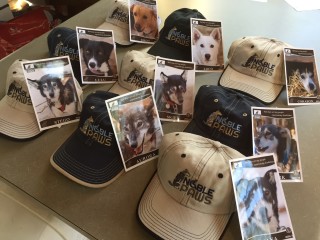 Taking care of a dog team takes a lot of resources. In fact, the biggest expense for Noble Paws is animal care.
SPONSOR A DOG
You can help support Noble Paws by sponsoring a dog. All sponsor money goes directly towards the care and feeding of these great dogs.
Sponsors receive a Noble Paws hat and a picture of their dog. Also, your name will be added as the official sponsor just below  the bio of your dog on this page.
NEW: THE PUPS
These new kids are really having a lot of fun at Noble Paws. They still have that puppy playfulness, but amazing to watch them developer into their roles on the team.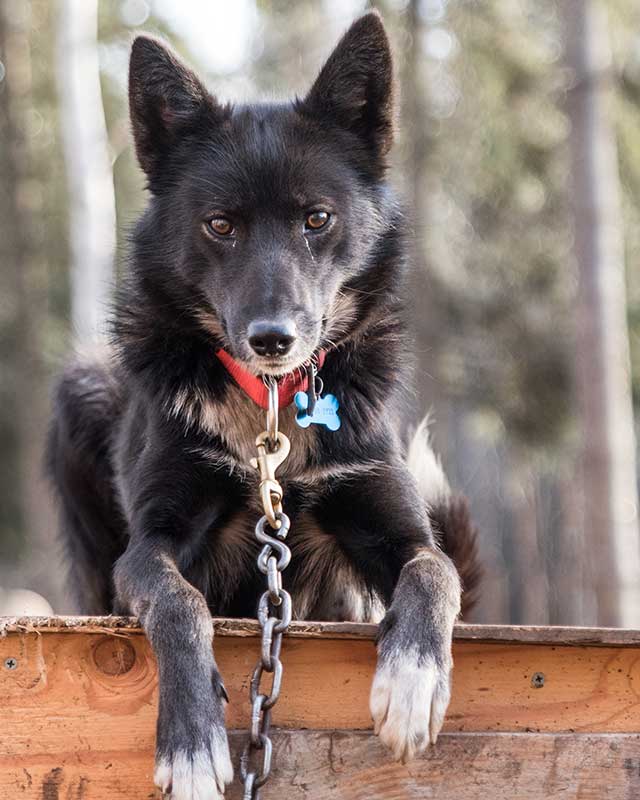 Mac
Mac is a smart ambitious young leader. Not to mention cute and lovable. It's her first year with Noble Paws and she is doing great.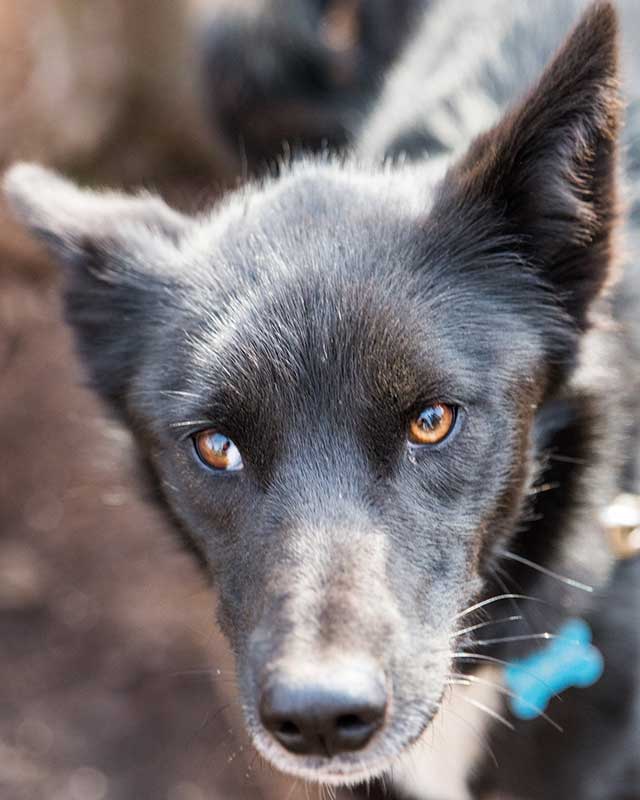 Willow
This girl runs like she has an extra leg… sorta clunky and twisted. But she has a charming personality and really enjoys being part of the team.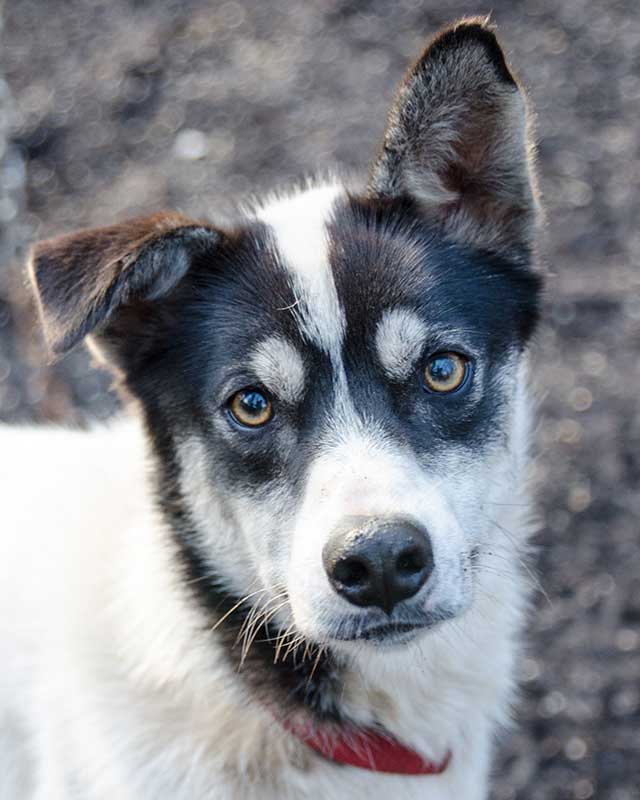 Spot
This guy is the youngest dog on the team and is already showing signs of being a truly great runner. He loves his job… and is being taught by one of the best – Colbalt.
NEW: THE VETS
These dogs bring wisdom and experience. Two trained leaders. Four Iditarod finished between them and one summer tour glacier dog.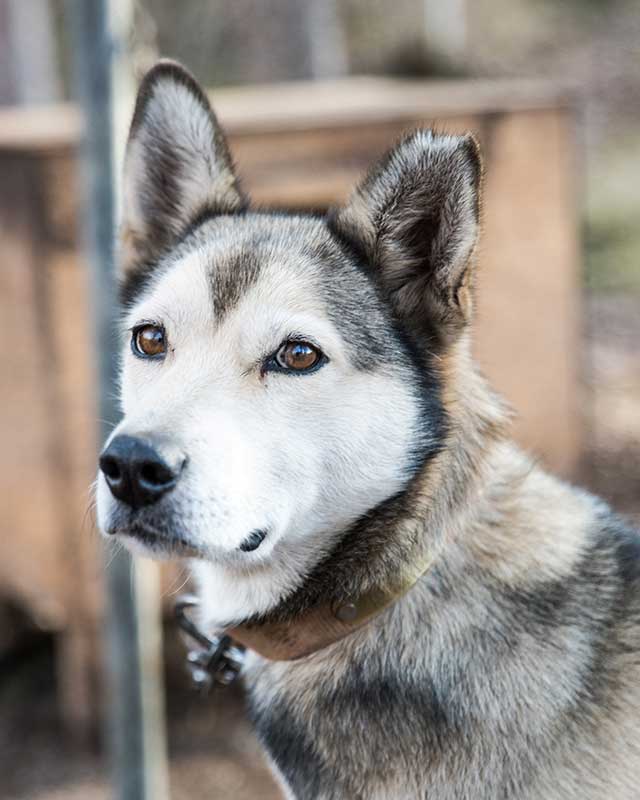 Betty
Two time Iditarod finisher and now the most capable leader in our kennel. Betty has a calm, "yeah, I been there" attitude. She is mentoring Lulu. We love her.
Thank you MIKE AND TESSA from the high country around Lake Tahoe for sponsoring Betty.
Cobalt
Stoic. Dedicated. Experienced. This guy has the best work ethic and he is sharing his skills by mentoring young Spot. Oh… and did we mention? Two time Iditarod finisher.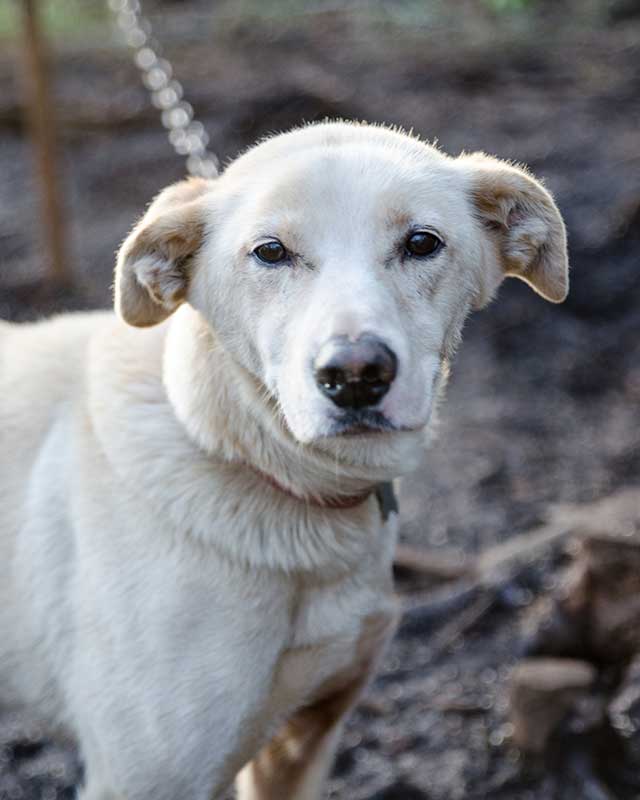 Hayden
Hayden use to run in the summer on glaciers. But she is liking her life in the interior. Not to mention a good leader and a sweetheart of a personality.
NEW: THE BIG ONES
The passing of a dear friend resulted in the taking in of these three gentle giants. They've never been part of such a big team… but they are fast become beloved Noble Paws dogs.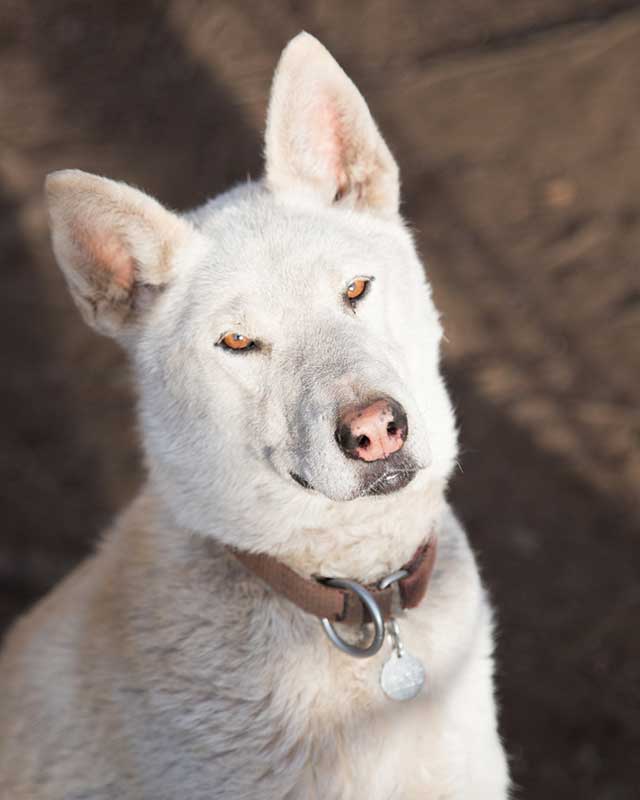 Cricket
Cricket likes to shine (obviously). She also likes to be the boss, and is willing to let others know it. But she is also loyal and ever so willing to please.
Thank you STEPHANIE from California for sponsoring Cricket.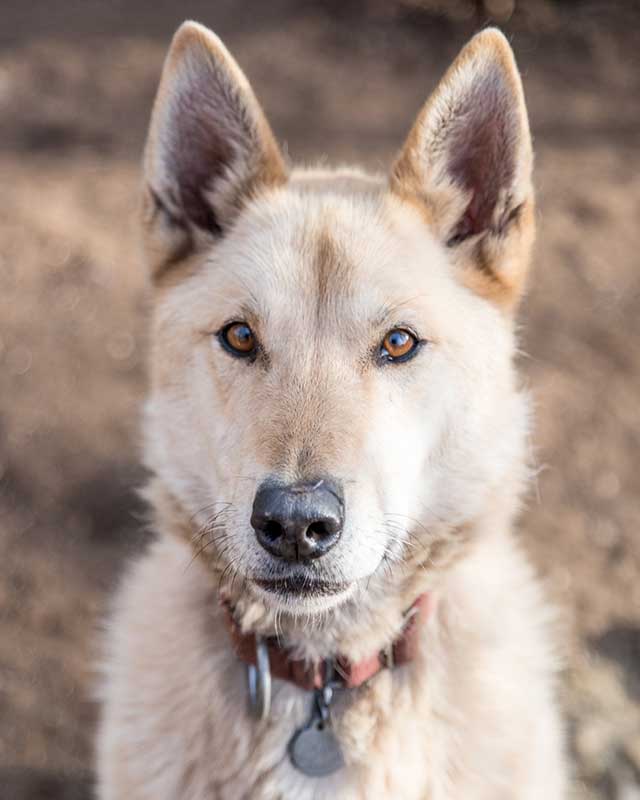 Delroy
Delroy is the biggest most lovable dog in the kennel. He aims to please and loves being a part of Noble Paws.
Thank you STEPHANIE from California for sponsoring Delroy.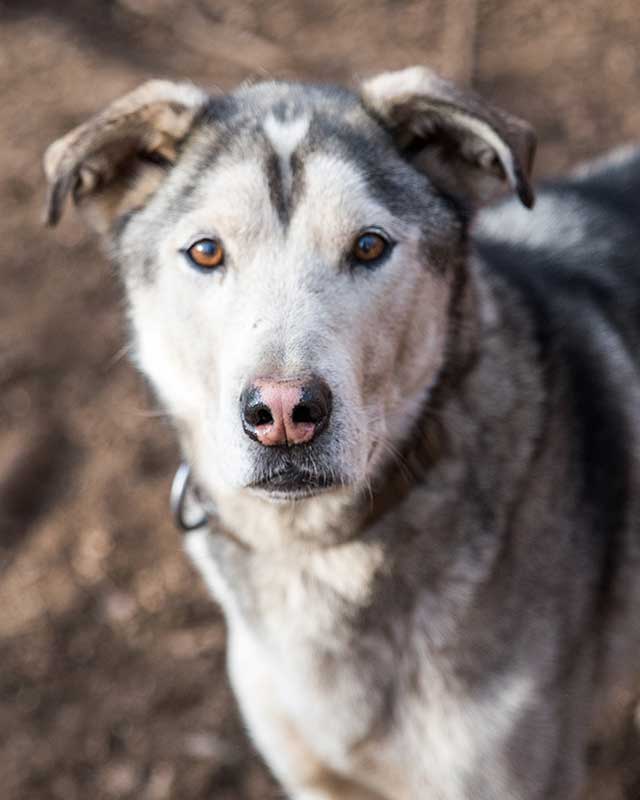 Beenie
This guy is lovable and a bit shy. Not to mention one of the biggest guys in the dog yard. His size helps pull our adaptive equipment so everyone can learn to dog mush.
Thank you STEPHANIE from California for sponsoring Beenie.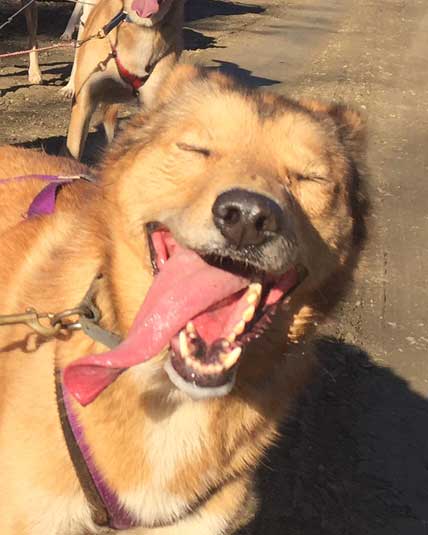 Ruby
Ruby is just wild about running. Even when the team is stopped she will just lung forward over and over – go, go, go.
Thank you CALEEN S. for sponsoring Ruby.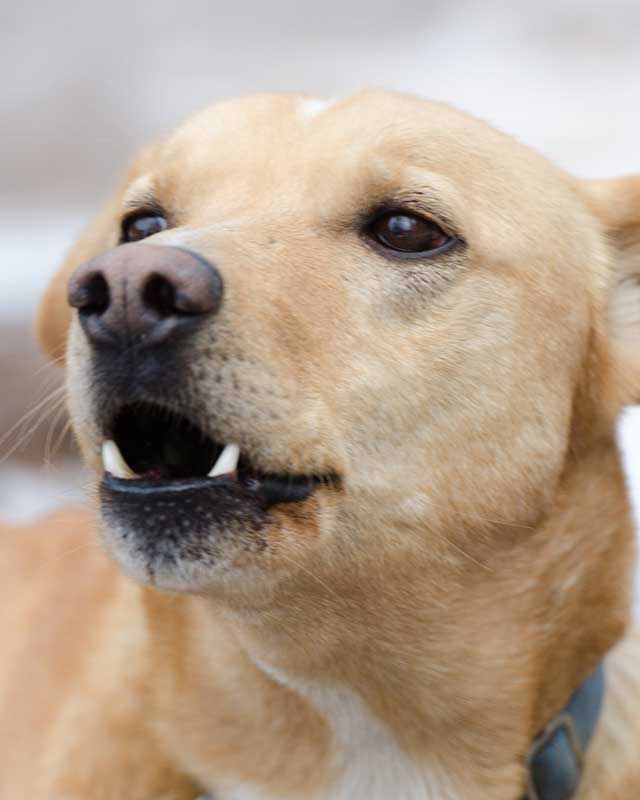 Diego
Diego is quiet and a bit quirky. But he loves to lead and ask him to "sing" and you'll get an ear full.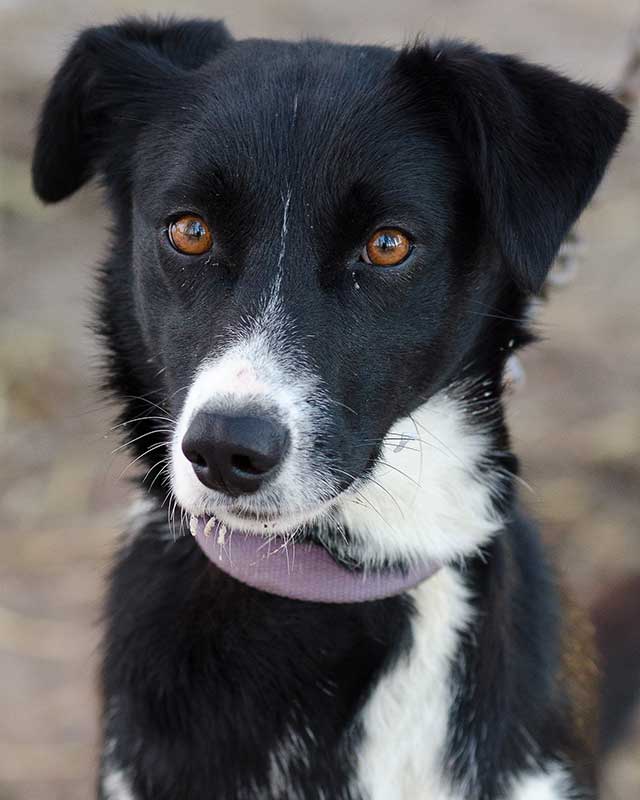 Lulu
There is no dog more enthusiastic about being a leader than this young girl. Even when she turns the wrong way, she does it with enthusiasm.
Thank you IAN from Fairbanks for sponsoring Lulu.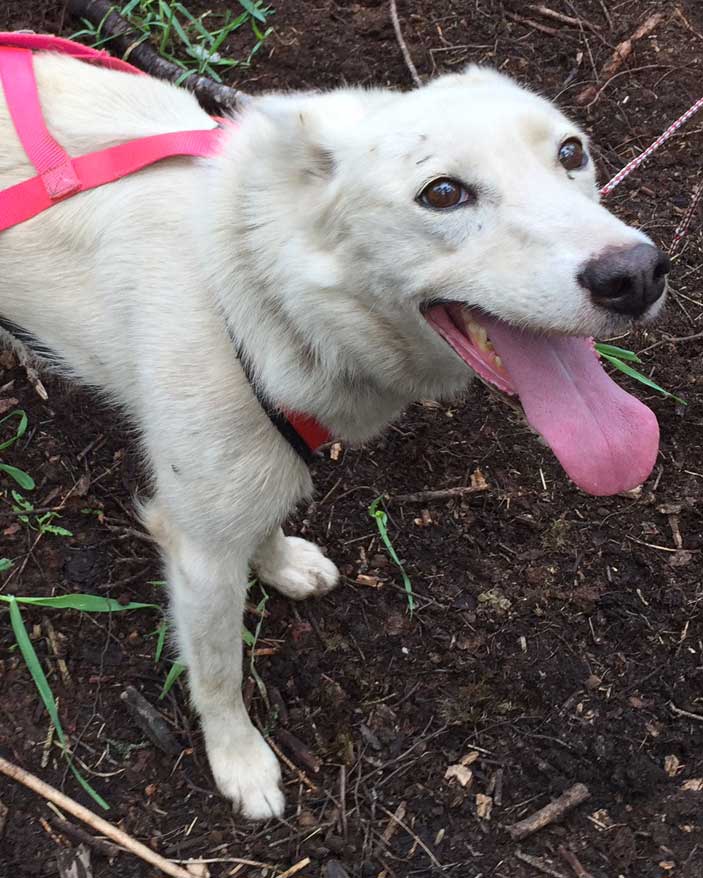 Loco
When we go to schools we bring Loco. Loco rules the room at every visit. And often plays hide-n-seek when it's time to leave.
Thank you SHOSHANNA AND LILY from Fairbanks for sponsoring Loco.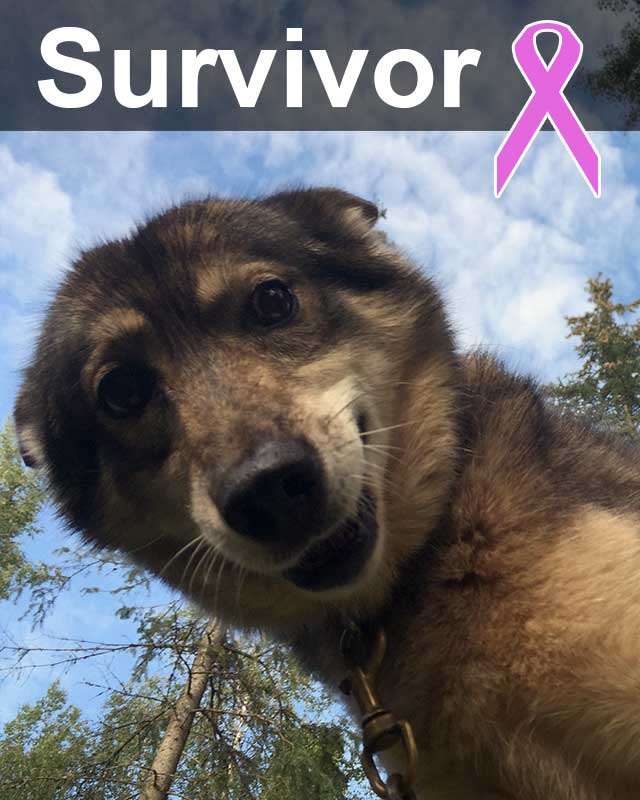 Hazel
Hazel is a great lead dog and loves to just hang in the dog yard. She spent this past summer recovering from a malignant cyst and is back training with the team.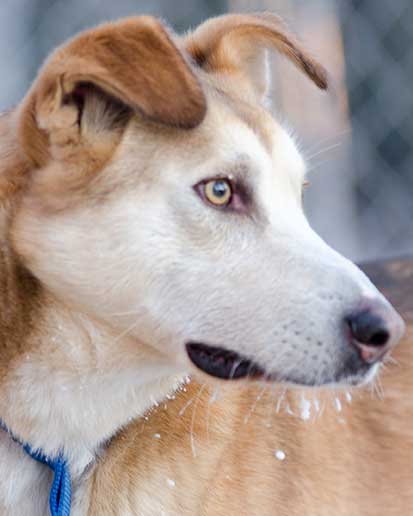 Monkey
Monkey can woo you with his deep engaging eyes. He is a good looking boy, strong and devoted… and just a bit goofy.
Monkey is sponsored by Chris and Libby
"We believe in you and the work you are doing – so  our most heartfelt wishes go out to you for much success this next year – changing lives is never easy, but so very rewarding."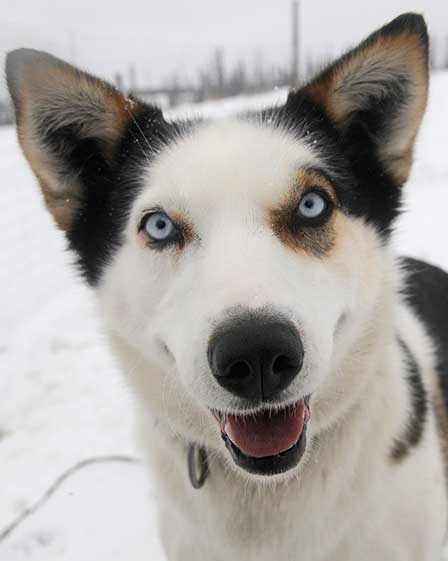 Lahey
Quirky. Spastic. Shy. Gung-go. That is Lahey in a nut shell. Oh yeah… nutty.
Thank you SHAYLE H. for sponsoring Lahey.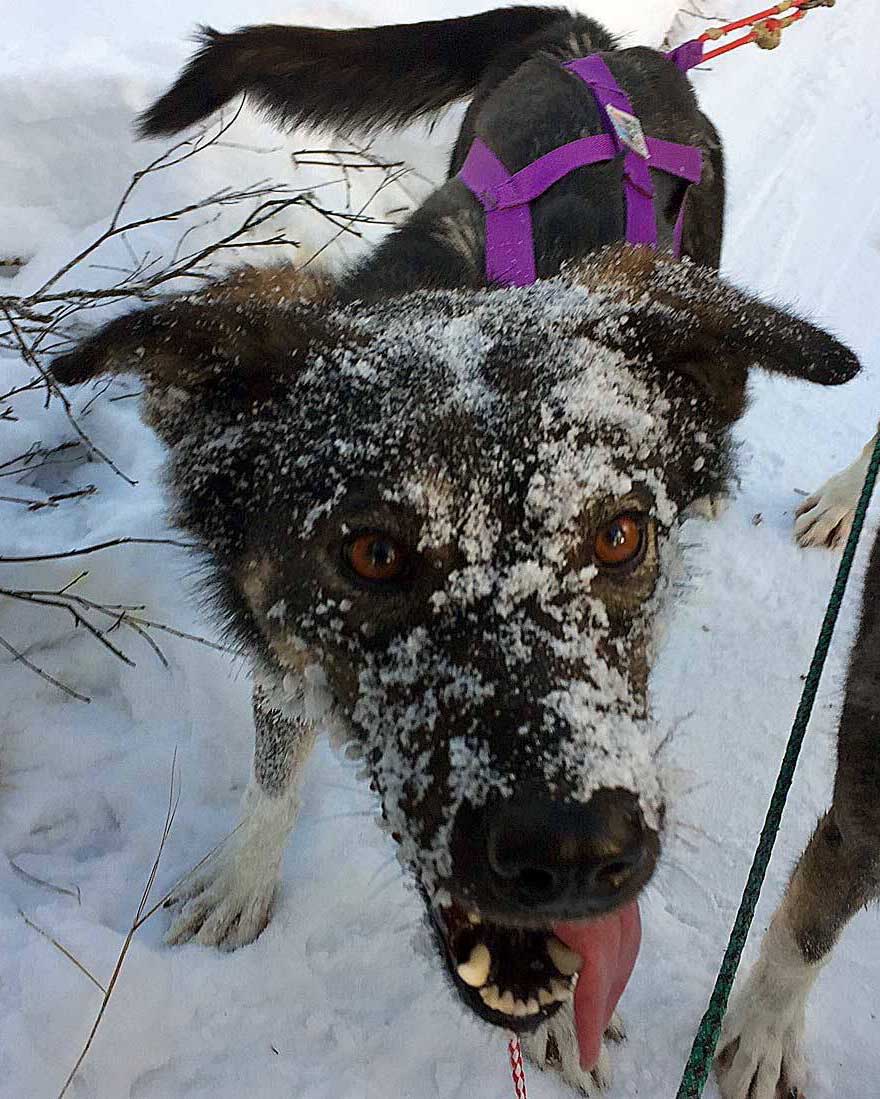 Athens
It's tough to find a dog that is more excited to run than Athens. She is three years old and still has plenty of puppy left in her. She is guaranteed to make visitors smile.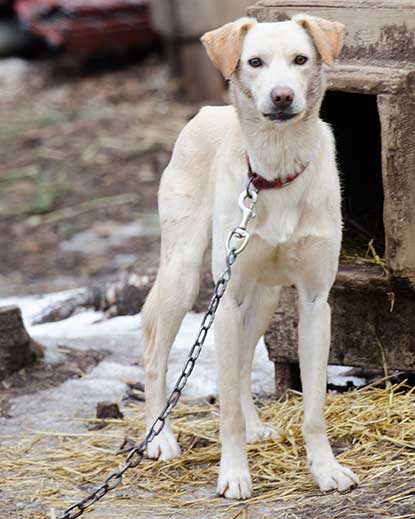 Maple
Go, go, go, go, go. That is Maple. He is three years old and really shy. But when in harness he is a whole other dog. Go, go, go, go, go. That's Maple. Star sprint dog.
Thank you ADAM S. for sponsoring Maple.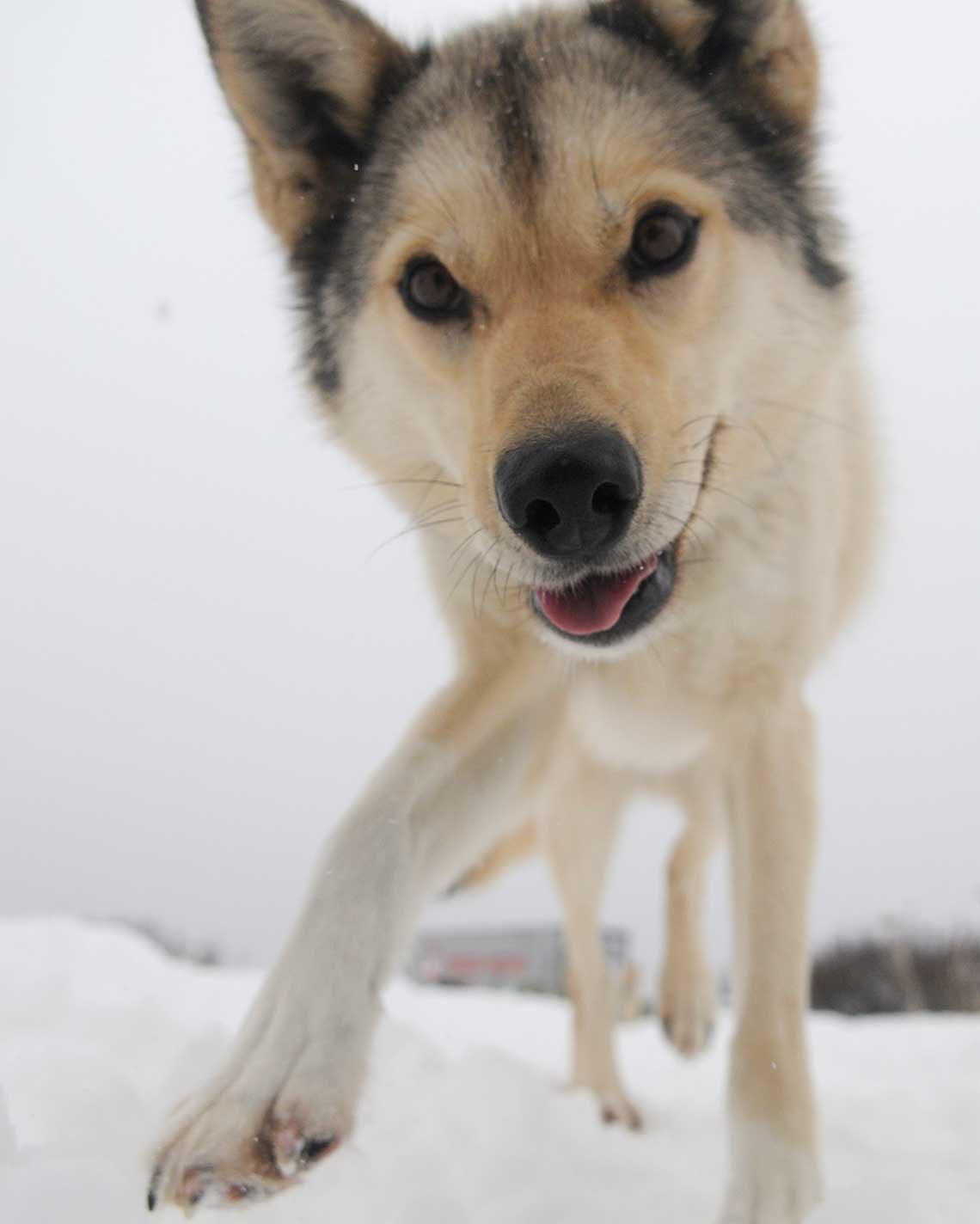 Alice
This girl is the shyest dog in the kennel. She likes to hang in the background, but when you put a harness on her, she becomes a whole other dog. Such a sweety.
Thank you ANNE H. for sponsoring Alice.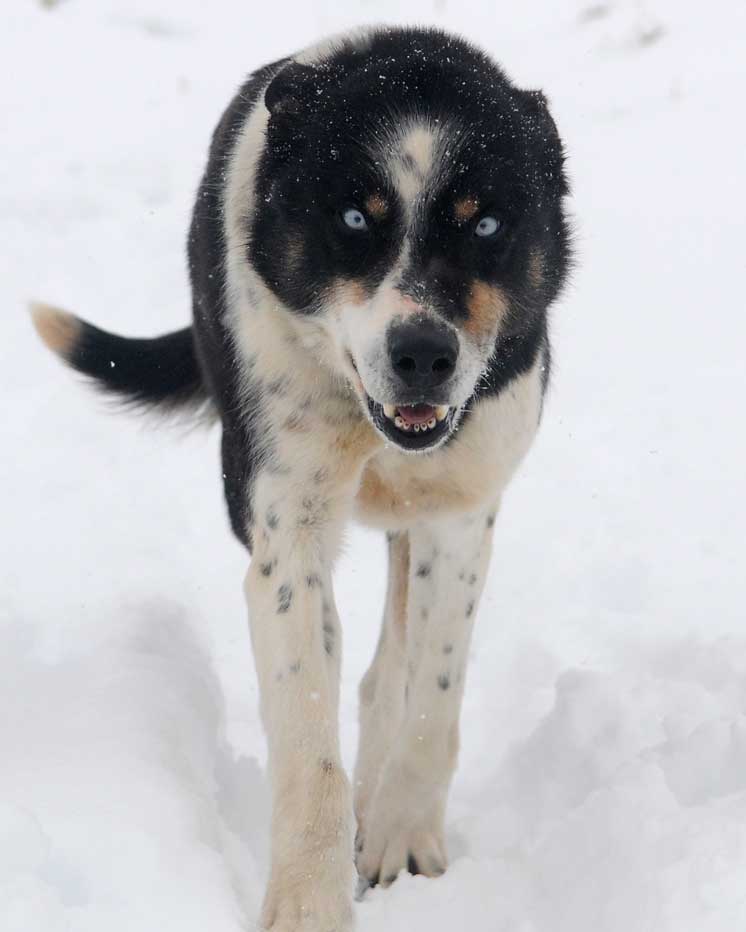 Doyle
His full name is Doyon, but we only call him that when he is getting in trouble. So honestly, we just call him Doyle. He is built like rock – solid, stable. Oh, and he's got those baby blues.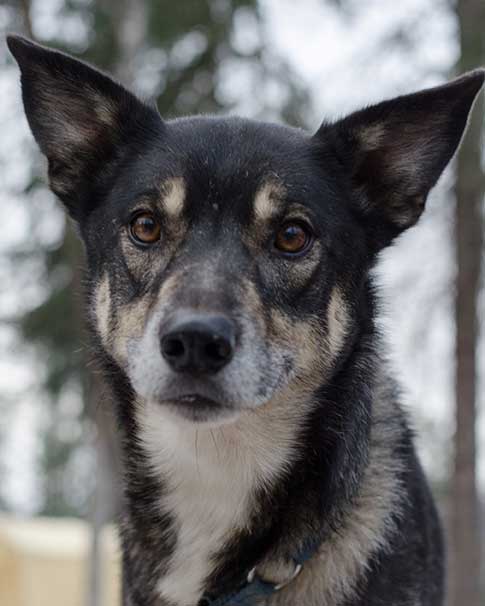 Chewbee
This guy is loved by many for his enthusiasm and devotion. He is a strong team dog who enjoys his role with Noble Paws.
Thank You DAN H. for sponsoring Chewbee.