Our Goal is Simple
To help people experiencing disabilities discover new forms of mobility and independence while engaging with the natural world through the use of a team of sled dogs. A simple $50 donation will give two people this opportunity!
Please, help us reach our goal.
About Noble Paws
Noble Paws works with people who experience disabilities and at-risk behaviors. This includes working with people with addictive behaviors, PTSD, developmental disabilities, cerebral palsy, autism and behavior health related issues.
We have a team of trained sled dogs that are experience in racing and overnight camping.
Our Mission
Noble Paws teaches people experiencing disabilities and at-risk behaviors how to run their own dog team. This service includes the use of a trained dog team and custom made adaptive dog sleds.
Our sleds can accommodate a variety of disabilities, including: cerebral palsy, autism, paralysis and down syndrome.
The ultimate goal of Noble Paws is to enable participants to discover new forms of mobility, independence and self-reliance.
We incorporate a "dogs first" approach that teaches participants that being a leader means taking care of the team.
Our Program Director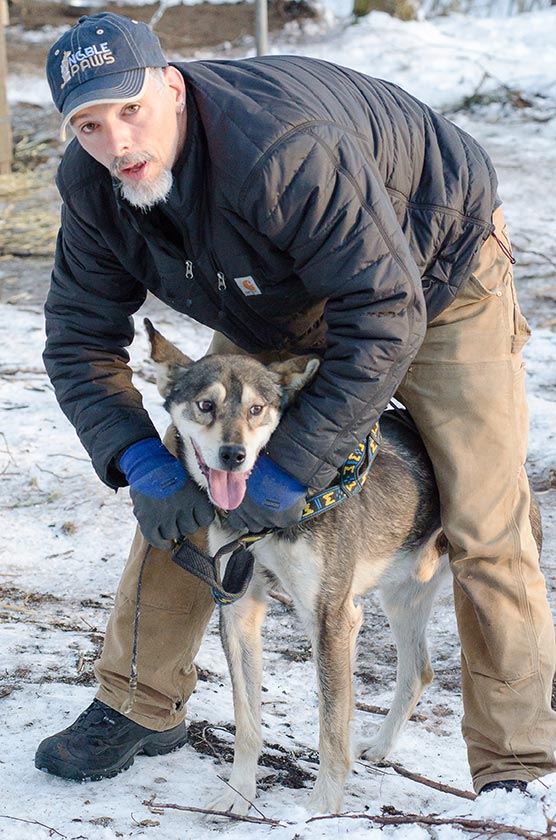 Our program director is Steve Vick. He has worked in the mental health field for many years as:
Supportive Live-in Specialist – Steve worked for CrossRoads Counseling & Training Services for two years. He lived with clients with Cerebral Palsy, fetal alcohol syndrome and traumatic brain injuries.
Wilderness Adventure Guide – Steve worked for three years with Juneau Youth Services. He led groups of at-risk youth on month-long trips into the backcountry of Alaska.
Alternatives to Violence Group Facilitator – Steve spent two years working for LEAP teaching an alternatives to violence program to groups of men convicted of domestic violence.
Steve teaches participants about the responsibility and dedication it takes to care for, and run, a team of sled dogs. He is adapt at working with people experiencing a variety a physical and mental disabilities.
Steve is especially skilled at working with at-risk youth. His teaching approach focuses on self-discipline and helps increase a participants self-esteem as they learn new roles of leadership.
Dr. Betsy Lyons
Vice President
Dr. Betsy Lyons is a veterinarian formerly with the US Department of Agriculture. She says she is retired but seems to be keeping pretty busy serving on animal related boards. We are excited to have her on our board. That is her dog (Stella) pictured at left.
Betsy is the Vice President of Noble Paws.
Tracy Mikowski
Secretary
Tracy use to be a zoo keeper as well as the owner of a dog boarding business. Yes, that is a baby seal in her arms. She has cared for and/or rescued about every animal known to man.
Tracy is the Secretary of Noble Paws.
Dr. Elizabeth Wolfe
Board Member
Dr. Elizabeth Wolfe, AKA Nene, lives in Juneau. She has spent many years as a volunteer veterinarian for the Iditarod, Yukon Quest and the Copper Basin 300. She is a member of the International Sled Dog Veterinary Medical Association (I.S.D.V.M.A.).
Nene spends a lot of time traveling Alaska as a bush vet. We are honored to have her as a member of our board.